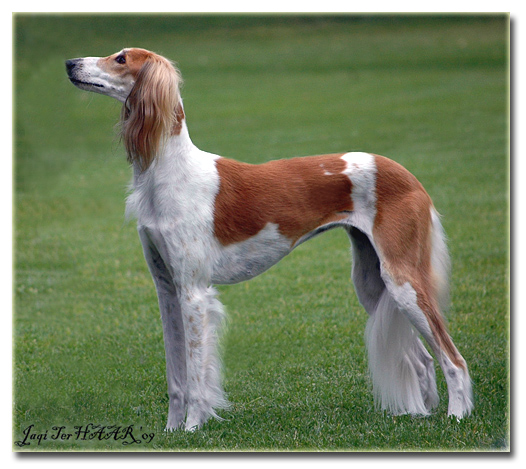 Briza is another one from my Wind litter, whelped in April 2006. She is quite the comical clown about the house and just about as equally fun to show as she always has a great time in the ring!
Click HERE to see Briza's pedigree.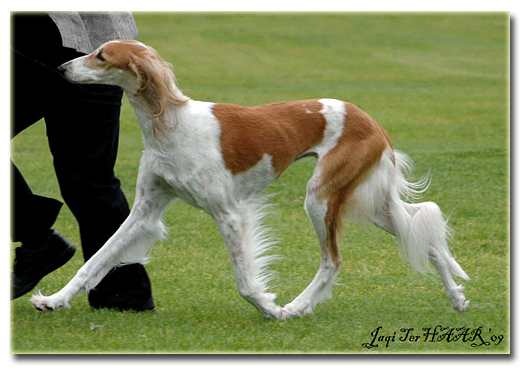 Briza, like her brother Seca, has wonderful, light and flowing movement. Seca pretty much stole the limelight when they were both in the classes as it is hard to win with your class bitch when you've already won with your class dog! In April 2009, Briza won Reserve Winners Bitch at the San Angeles Saluki Club Specialty show under Dr. Goran Bodegard (SWE) and garnered several other Winners Bitch wins that brought her point total to seven. On January 8th and 9th, 2010, she won back to back majors at the Inland Empire Hound Association of Southern California and the Kennel Club of Palm Springs shows under judges Jo Anne M. Buehler and Barbara Dempsey Alderman. She followed up her Palm Springs wins by going Winners Bitch and Best of Winners at the Orange Empire Kennel Club show on January 30th for the final point to complete her title under judge Malcolm Fellows!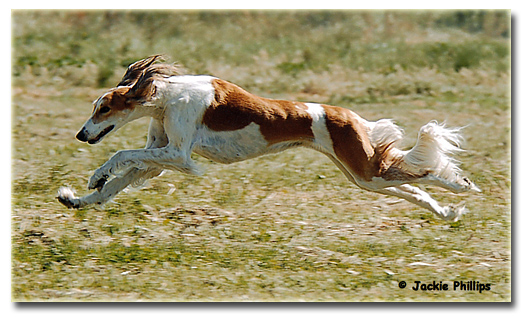 Just like her brother, Briza has enjoyed chasing hares out in the Mojave Desert. Now, in her retirement years she has joined Virginia Gandrup in Modesto, California and along with a few other elderly Saluki girls, she is living in luxury. Well earned my dear girl!