Ch. Ananda's Joi JC was my first saluki and taught me all the charms and frustrations of Saluki ownership. She was whelped June 28th, 1986 and was bred by Deborah Ho. She came to me at nine months of age and went on to become my second show champion and also acquired her JC title, along with becoming ASFA pointed. She was sired by Ch. Ananda's Cayenne of Snowynde out of Crown Crest Dancing 'n the Dark and became my foundation bitch.
| | |
| --- | --- |
| My second Saluki was Ch. Eryas Shani Sa'iir CD, JC, FCh, CGC, whelped January 11, 1988. Sa'iir was my first show champion and while never bred from, he pointed me to the virtues of the Timaru Salukis. I later incorporated these bloodlines with great success (see my Midnite Litter). Sa'iir was sired by Ch. Timaru Tequila out of Mex Ch. Bel Smbran Shani A Kadar FCh. | |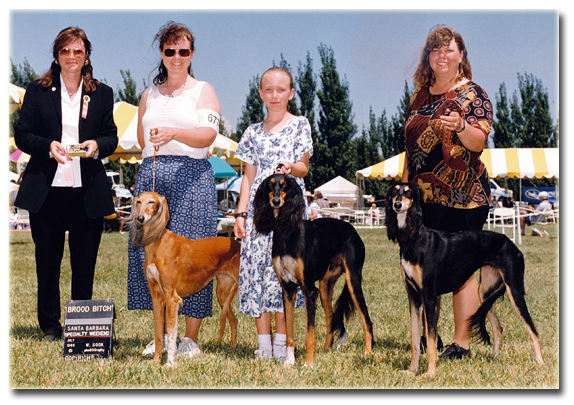 On June 26th, 1990 Joi whelped the first Sadik litter, sired by BIS SBIS Ch. Moshire Springtime Prophecy ("Khan"). Joi is pictured above winning the Brood Bitch Class at the Santa Barbara Kennel Club show in July 1995 under breeder/judge Ute Lennartz at the American Saluki Association's supported entry. She is pictured with her son (center) Ch. Sadik Ananda Damisi CD, JC and her daughter (right) Ch. Sadik Ananda Kali CD, JC, CGC.
(Photo by Cook Phodography) Click HERE to see and learn more about my first litter!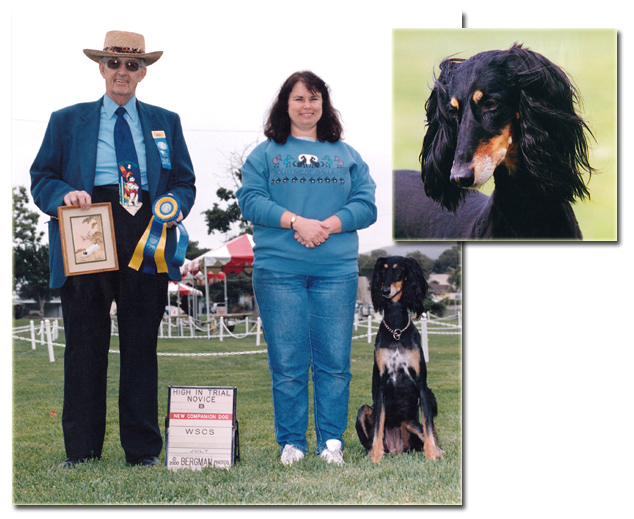 Sadik Rakiizah, CD: Joi's second litter was a "lit"! A single richly colored tri bitch was whelped on November 16th, 1993. She was sired by Ch. Timaru Tequila and Keeza had personality plus from the beginning. Accidentally spayed at six months of age, she was never shown. She was lure coursed occasionally, but preferred real bunnies to plastic. She finally earned her obedience title after purposely zeroing one exercise each time so she could continue to go to shows for two years. She managed to finish her CD with a High in Trial. Keeza lived her life enthusiastically and with a great sense of humor. I miss her still.
| | |
| --- | --- |
| Born on December 14th, 1995 from a litter sired by MBISS SBOS Ch. Zabarre el 'Rish Alsander out of Ch. Timaru Moon Magic, was Ch. Ellora Moon Shadow. I acquired Shadow as a pup and enjoyed showing him to his championship. He won numerous Best of Breeds (photo with sighthound judge Christy Nelson) and several specialty and supported entry Award of Merits. Shadow was a special member of my household and a joy to live with. | |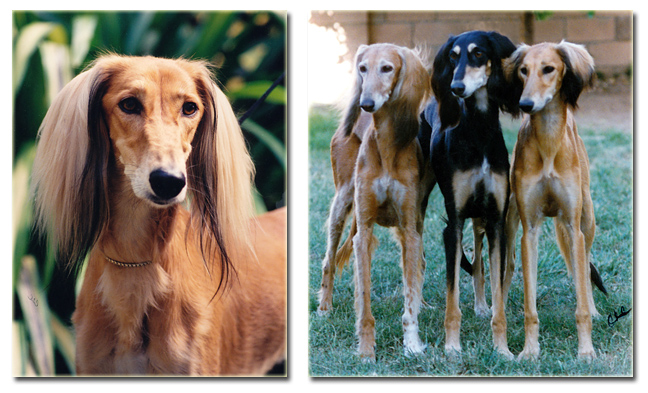 On September 24th, 1996, my Midnite litter was whelped. Sired by Ch. Timaru Zephyrus CD, SC (above, left) out of my Ch. Sadik Ananda Kali CD, JC, CGC. They were very successful in the show ring. Out of six puppies, five were shown and became champions, each one with at least one Saluki specialty win.
(Pictured on the right, from left to right: Ch. Sadik Midnite Aurora JC as a pup, her dam: Kali and Kali's dam, Ch. Ananda's Joi JC.)
To learn more about the subsequent generations at Sadik, please visit my Litters page!