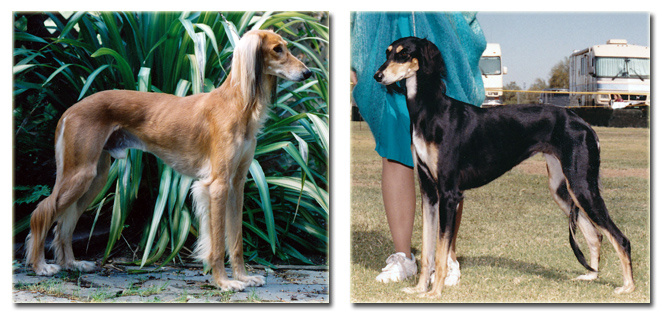 Ch. Timaru Zephyrus CD, SC, CGC (left) sired the second Sadik litter out of my Ch. Sadik Ananda Kali CD, JC, CGC (right). From this litter came five champions, four of which were multi-titled in the ring and lure coursing.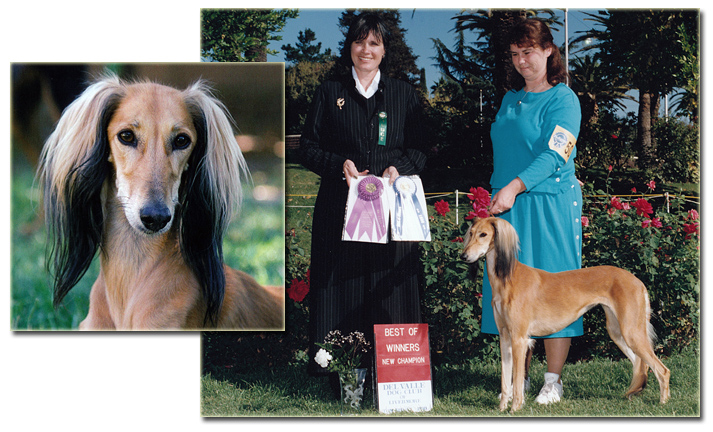 Ch. Sadik Midnite Aurora JC was a rich black fringed red girl. I knew Rory would stay with me the moment she was born. Saluki breeder judges loved her in spite of her distaste for the ring. She won the ASA Desert Match at the tender age of three months over 80 Salukis under Judy Gamble (Zaharah). She was Best in Sweeps at the SCOA Western Regional under Marilyn LaBrache Brown (Dadaelis) at ten months. She finished her championship at a SCGSF supported entry under Ute Lennartz (mata salamata) and though rarely specialed, was BOS at the SASC Specialty under Ken Allan (Jazirat) and was BOB under his wife, Diana, at the supported entry the next day. She won several specialty and supported entry Awards of Merit and won a second specialty BOS in 2001 at the SCGSF under Carolyn Potts (Yasbiq).
In July 2000, she whelped her first litter, sired by her uncle, Ch. Sadik Ananda Damisi CD, JC, producing the Solar Litter. Her second and final litter, the Sun God and Goddess Litter, sired by SBIS Ch. Hajji Reignbeau Int'l Reign JC, was whelped on May 30th, 2004. Rory's greatest joy was coursing, and while she did not title in the open field, she proved herself to be a worthy huntress and showed her kids the ropes until just before her death from Cancer in December 2006.
(Pictured on the right, above, finishing her title, photo by Tom Bruni)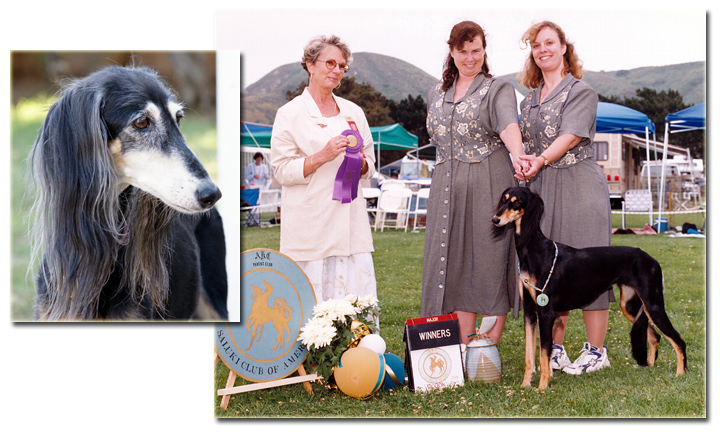 Ch. Sadik Midnite Music, JC was the puppy that nobody wanted, so she stayed. She earned her championship easily due to her soundness and light floating side gait. She was Winners Bitch at the SCOA Western Regional in 1998 (Photo on right) and finished with three California majors. Like her sister, Rory, she greatly preferred the field to the show ring. Jazz, pictured on the left at thirteen and a half years, still loves to go for car rides!
(Photos by Chapman, left and Cook Phodography, right)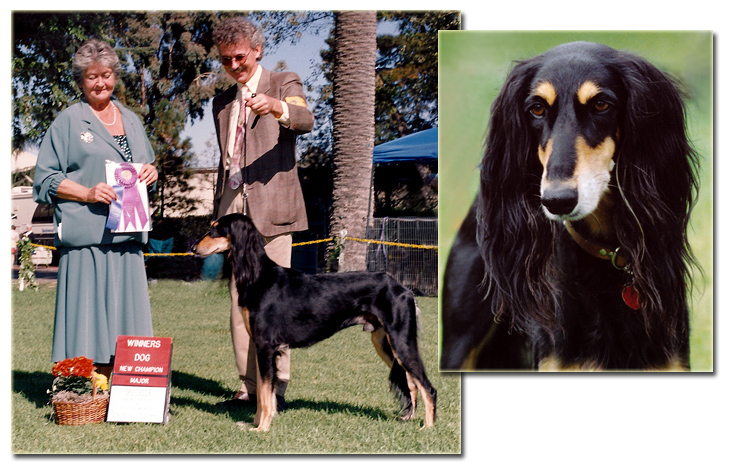 Ch. Sadik Midnite Flyer was a richly marked tri owned and shown by Jim and Linda Griffin of Oakdale, California. This stallion-like male finished his title easily with his correct conformation and sound and flashy movement.
Jim says: "Flyer touched us as no other has done in years . . . he had such a zest for life, you only saw his good movement occasionally as it was rare all 4 feet were on the ground at any one time, he watched your every move when gaiting and would have been an excellent obedience dog because of that. Always playful, you never knew if he was going to gait for the judge or dance around and playfully jump on you..."
His wins included majors at the Saluki Club of Greater San Francisco Specialty, Kennel Club of Palm Springs and also at the San Angeles Saluki Club Specialty.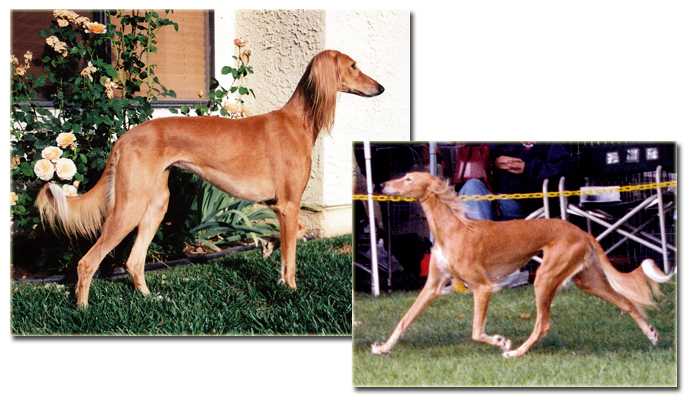 Ch. Sadik Midnite Sun JC was the golden girl in the litter! She was owned by Robin Harris of Valencia, California and later moved to Salt Lake City, Utah. Whisper also completed her title with ease and her wins included a California supported entry major. In 2001 she was Best of Opposite Sex at the American Saluki Association supported entry in Lompoc, California, earning her the ASA Fantasia Cup for that year.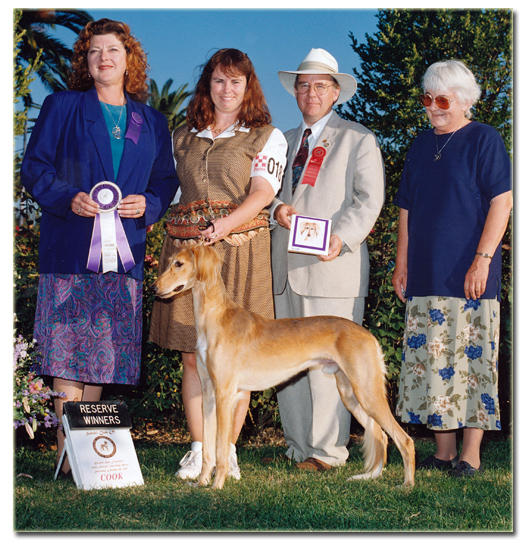 Ch. Sadik Midnite Gold JC was a beautiful golden grizzle boy who went to live with Jean Beeler of San Jose, California as a pup. He is pictured at only thirteen months of age, winning Reserve Winners Dog at the Saluki Club of Greater San Francisco Specialty show in October of 1997 under breeder/judge Alice Donaldson (Pharout Salukis). He finished with ease and along with winning numerous Best of Breed wins at all-breed shows, won an Award of Merit at the Saluki Club of Greater San Franciso Specialty show in 1999 and earned a Best of Opposite Sex at the Saluki Club of America Western Regional Specialty in 2000. Tibr was a modestly sized, compact boy with excellent Saluki feet, one of which he would frequently place on Jean's knee for her to admire.
(Photo by Cook Phodography)