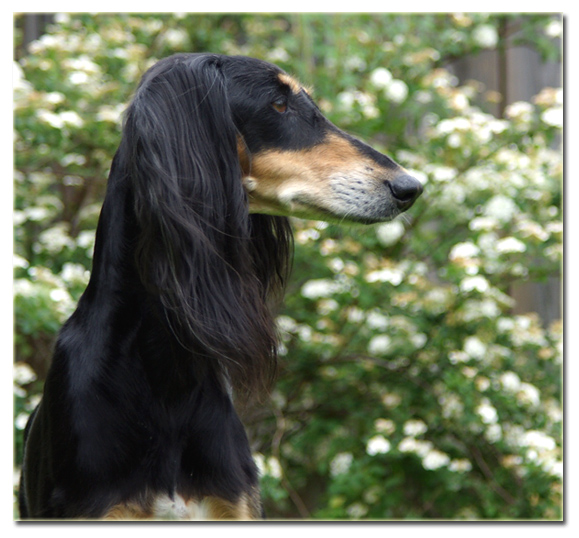 GCh. Sadik Akhtar Piece of My Heart JC is sired by MBIS Ch. Sadik Solar Flare CD, RN, JC out of Ch. Sterling Aria Akhtar Sadik. She is co-bred between Jim and Linda Griffin (Akhtar) and myself and was whelped on January 8th, 2009. She is named for the top Big Brother and the Holding Company hit which was released in 1968 with Janis Joplin as the lead singer.
At only 15 months of age, JJ already had 5 points, including one major, which she won at the Puget Sound Saluki Club Specialty show under breeder/judge William T Flynn (Silvershadow Salukis) at the tender age of seven and a half months.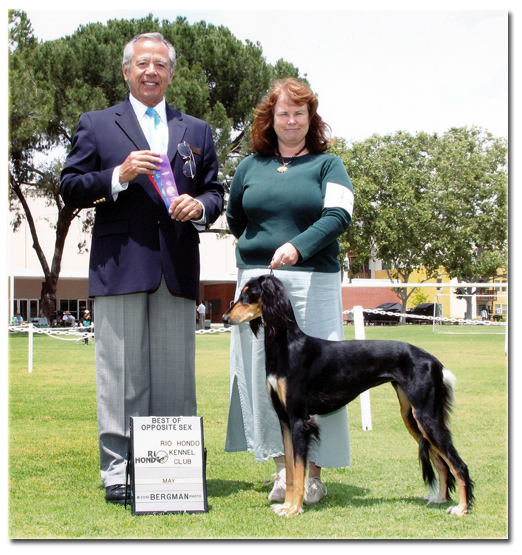 JJ is pictured above winning Winners Bitch and Best of Opposite Sex at the Rio Hondo Kennel Club show on May 9th, 2010 under judge Lou Guerrero (Genesis Afghans).
(Photo by Rich Bergman)
Click HERE to see JJ's pedigree.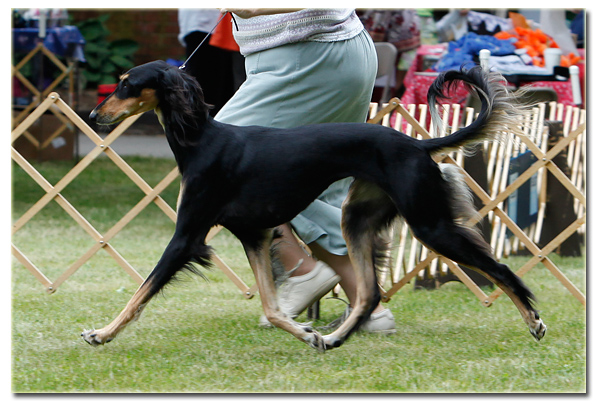 JJ is pictured above while in the ring at the Willamette Valley Saluki Club's specialty show in June, 2010. Being in the ring is one of JJ's favorite things and she shows it with her exhuberant and joyful attitude while showing off for her audience. Her fluid, balanced, light movement is combined with exceptional soundness. She is always a joy to have in the ring!
(Photo by Lori Olson)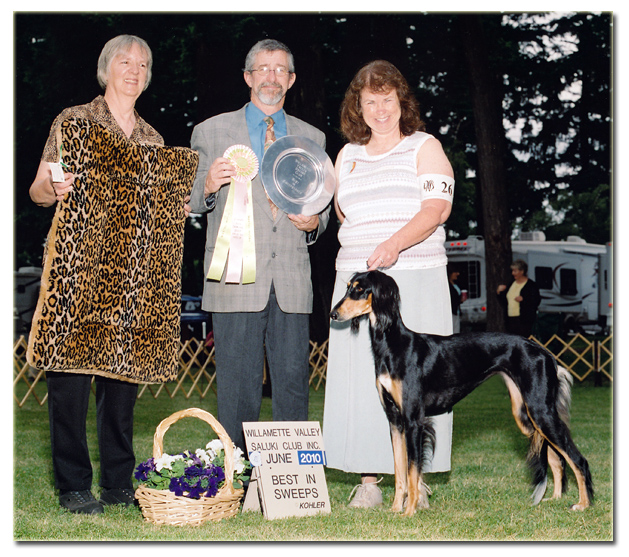 JJ is pictured above winning Best in Sweepstakes at the Willemette Valley Saluki Club Specialty show under breeder Rick Brown in June of 2010. Later in the day she was Winners Bitch from the Bred by Exhibitor class under judge Lori Nelson (Wildfire Whippets). This brought JJ's point total to nine with both majors!
(Photo by Kohler)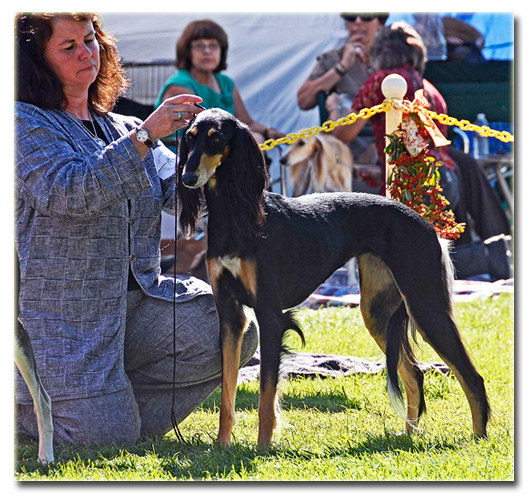 Just a few months before JJ turned three years old, she completed her championship with two more, back to back, majors under judges Karen Arends and Valerie Hamilton! She was the second of the Rock 'n Roll litter to finish. I am very proud of this happy-go-lucky girl who also enjoys the fall and winter months running hares out in the desert!
(Photo of Cathy and JJ in the ring at the SCGSF Specialty in October 2011 by Vicky Clarke)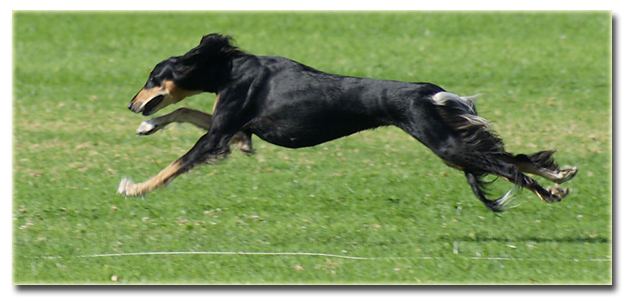 Along with the time JJ spends out in the desert, she also has enjoyed her few outings to chase the petroleum hare and is pictured above completing her Junior Courser title.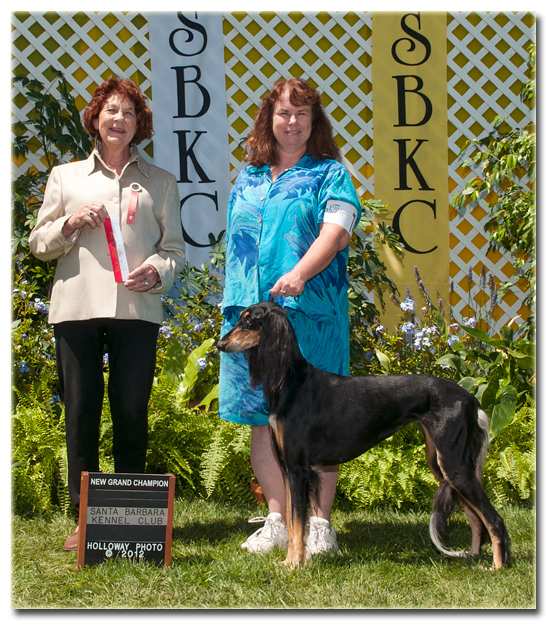 In August of 2012 at the Santa Barbara Kennel Club show, JJ completed her Grand Championship! She has since won several specialty and supported show awards and in March of 2015 she won Best in Specialty at the North Texas Saluki Club show under breeder judge Joanne Mahon. She is such a wonderful well-rounded girl and continues to be a complete delight to share my life with. Now, she expects her litter sired by MSBIS Am Can Ch. Lorrequer Kharyder.
See the FUTURE page for more information on JJ's puppies!
(Photo by Vicki Holloway)