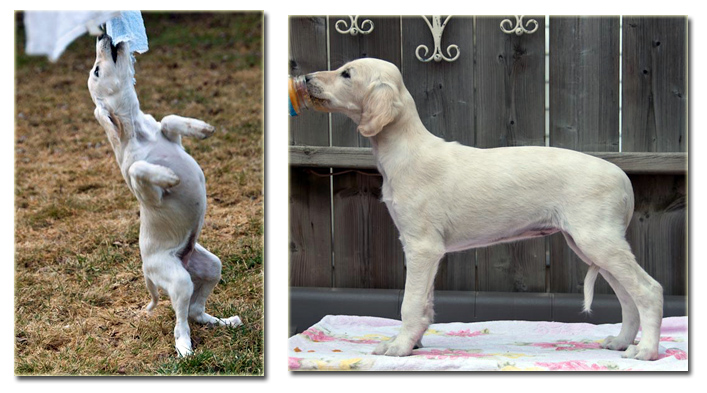 Lorrequer Legacy to Sadik came home via airlines with me after my visit with Lin in April. She handled air travel very well and made quite a number of friends while in transit. She adjusted to life in her new home in Simi Valley very quickly and is now a full-fledged member of the Sadik household.
Click HERE to see Sparkle's pedigree.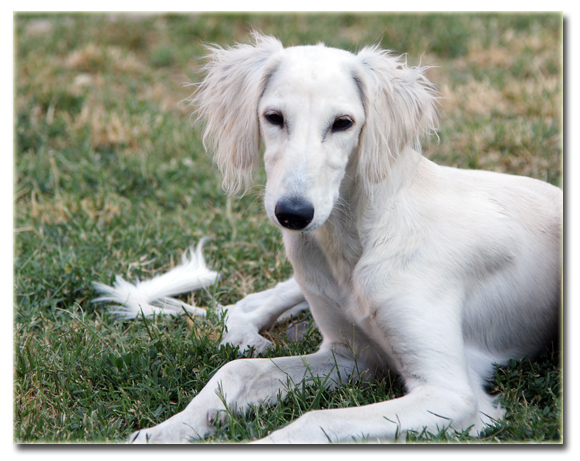 Sparkle is pictured above, relaxing on a warm spring day in the grass. At four months of age this is about the only time you'll get a pup to hold still long enough to get a photo without some help! Her brother, Beamer came to visit for several weeks, which kept him and Sparkle plenty busy "rearranging" the back yard and house. Now that Beamer has moved back east to his new home, JJ is now Sparkle's favorite play partner.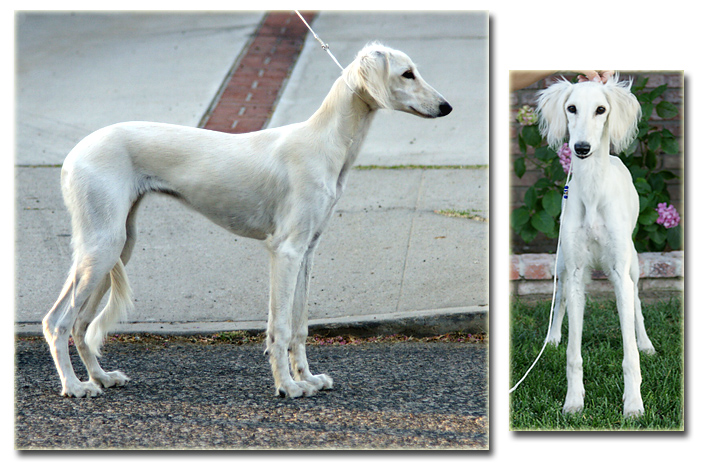 Sparkle is just past five months old in these photos. I had help with taking some photos on this day so we can see her holding still and standing up. The side view photo was easy as she had spied a CAT outdoors, just down the street and froze in her tracks. She's got great eyesight!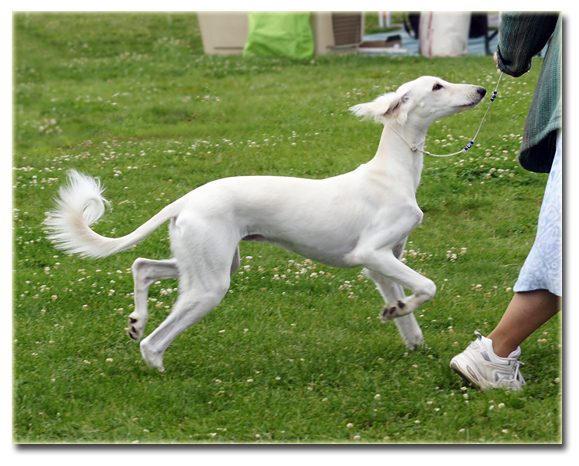 This cute girl had just turned six months of age the day before the San Angeles Saluki Club Specialty show held in Lompoc, Ca, so she got to have fun at her very first shows. She had a great time the entire weekend, both in the ring and out, playing with her other special puppy friends. She knows no enemies and has such an outgoing personality which makes her so much fun to take along wherever I go.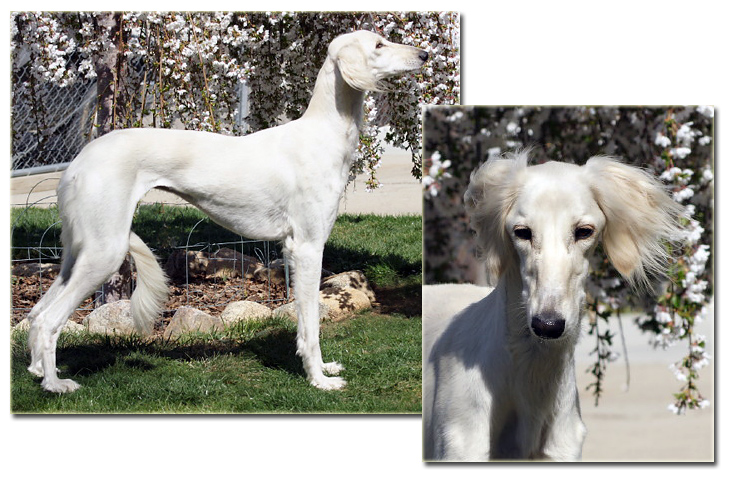 Sparkle is now 14 months old, time is flying! She has been enjoying frequent outings to the desert recently and has developed a very strong interest in the pursuit of hares. At the American Saluki Association's Desert Match in February, she won Best Adult Movement with her light and flowing style. Along with her budding beauty this girl's fun-loving personality is a joy to live with. She is the most wonderful addition to my family!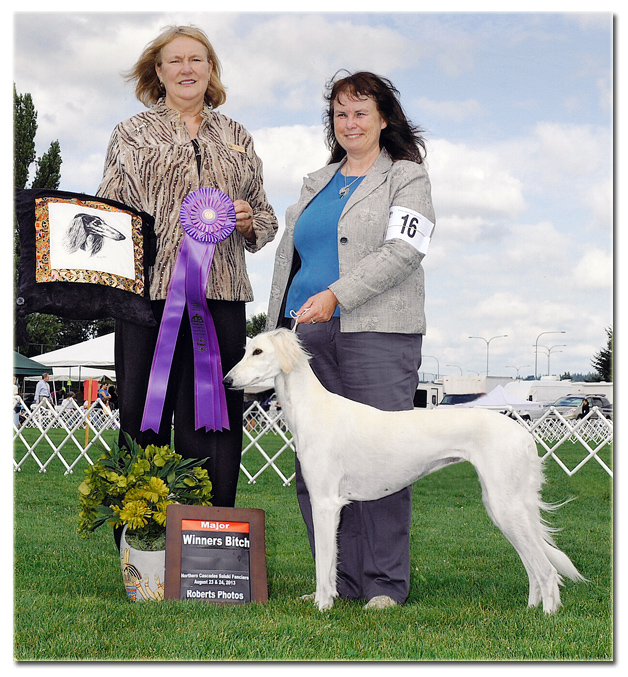 Sparkle is growing up nicely and has won her first major at the Northern Cascades Saluki Fanciers Specialty show in August of 2013 under breeder judge Pamela Arwood (pictured). At 18 months of age she is maturing into the girl I'd hoped for and is true to her name, a fitting tribute to both Lin Hawkyard's Lorrequer lines and my pedigrees.
(Photo by Roberts)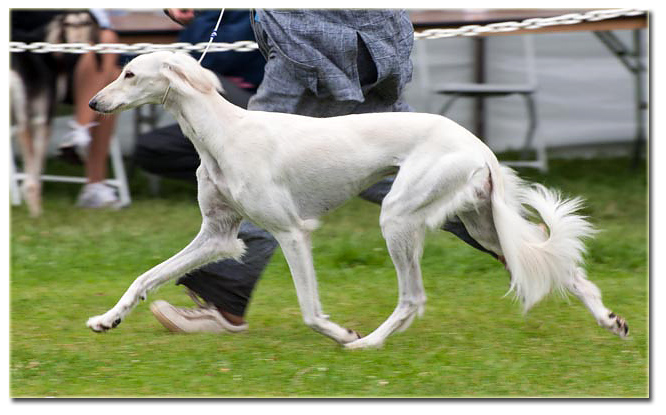 Not only is this girl easy on the eyes, she is also poetry in motion with fluid, light, lifting movement. I am very pleased that so many breeder judges have appreciated her already at such a young age.
(Photo by Lin Hawkyard)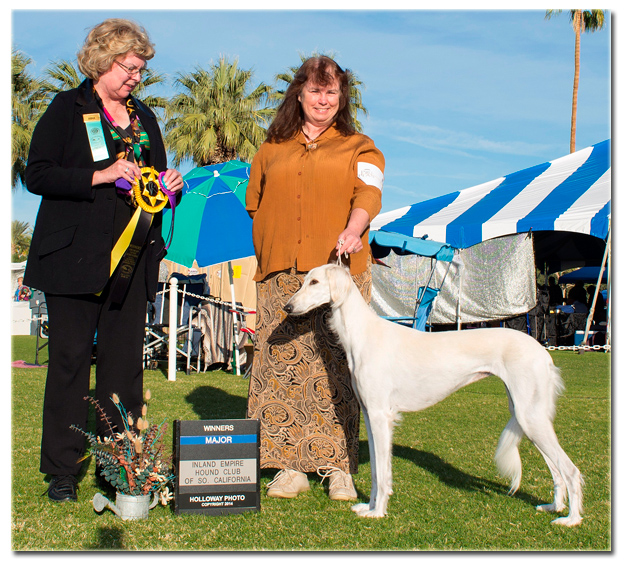 Sparkle finished her AKC championship in grand style the first weekend in January 2014. She won Winners Bitch the first day at the Inland Empire Hound Club of Southern California (ASA Supported entry, above photo), Reserve Winners Bitch the next day, then on the last day was Winners Bitch, Best of Winners and Best Opposite Sex. She completed her title having won four majors in limited exhibition. One major was a specialty win and one was at a supported entry. Those two wins were awarded by breeder judges, Pamela Arwood (Appalachia Salukis) and Carole Beyerle (Excelsior Salukis). All before her second birthday!
(Photo by Vicki Holloway)