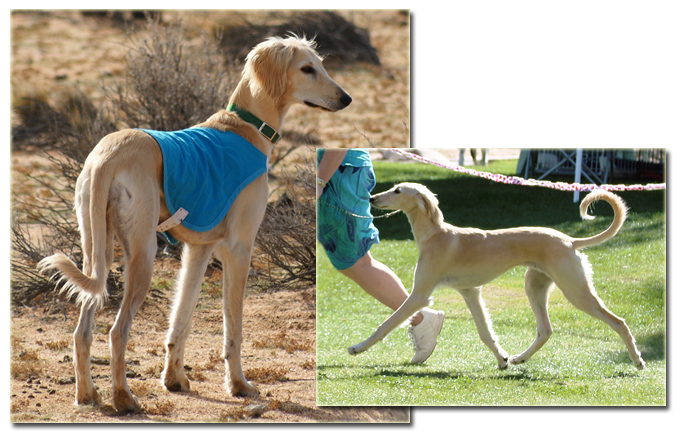 Kabria is from my August 2015 litter sired by Ryder (MSBIS Am Can Ch. Lorrequer Kharyder) out of SBIS GCh. Sadik Akhtar Piece of My Heart, JC Much like her mother in many aspects, Kabria is extremely outgoing and especially fond of people! She has her mother's attitude that life is to be enjoyed to the fullest, which includes a strong preference for alarm clocks (burying them), eye glasses (much to her human mother's chagrin) and the destruction of garden hoses. So far, to date, many have paid the ultimate price and wound up in the recycling bin.
Meanwhile, Kabria has been out in the desert as a baby puppy and has her early days training out in the big open spaces. She much looks forward to any and all social activities and learning about running hares this fall.
Click HERE to see Kabria's pedigree.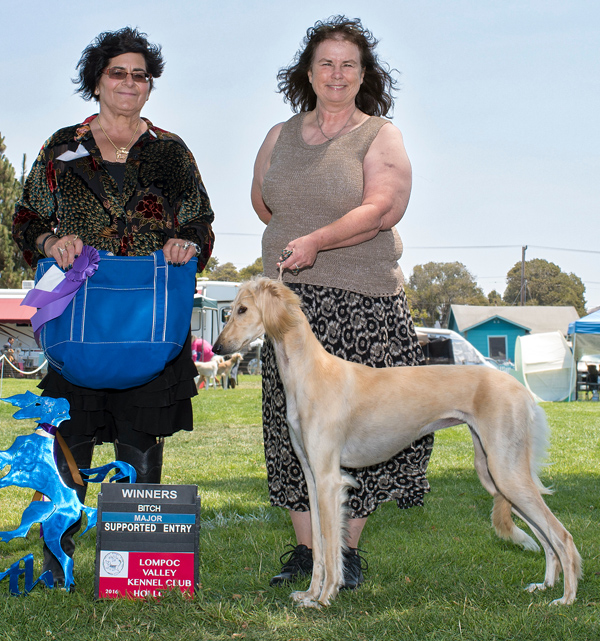 Kabria is pictured above at the tender age of eleven months winning Winners Bitch for a four point major at the San Angeles Saluki Club's supported entry at the Lompoc Valley Kennel Club show on July 30th, 2016. The judge was breeder judge Lois Snyder (Impala Salukis) and I cannot be more honored with this win for Kabria! What a great start down the road to her championship this is. Maybe I'll forgive her for chewing up four more hoses in the last month, lol!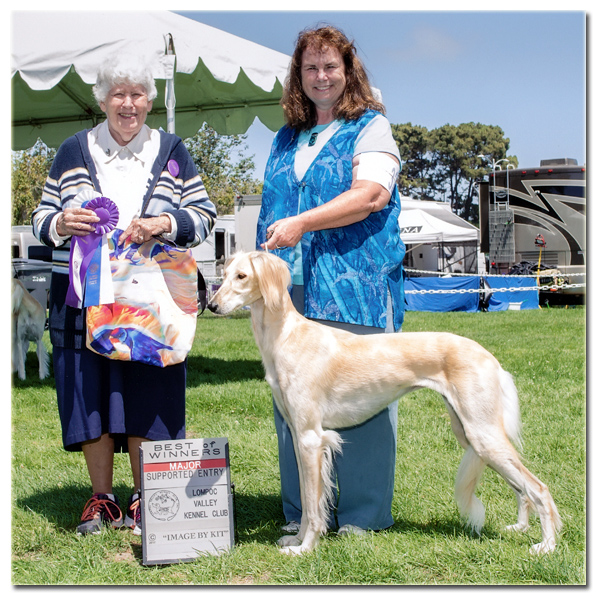 Kabria has enjoyed a wonderful trip to her title at the shows, culminating with back to back majors in Lompoc at the San Angeles Saluki Club and American Saluki Association's supported entries. She finished her title with four California specialty or support majors, all of her points being these major wins. She's quite a girl who has an exhuberance for life. She will now look forward to some trips to the desert to chase hares and teach the new kid on the block, Lakota, just how it's done.
(Photo by Kit Rodwell)