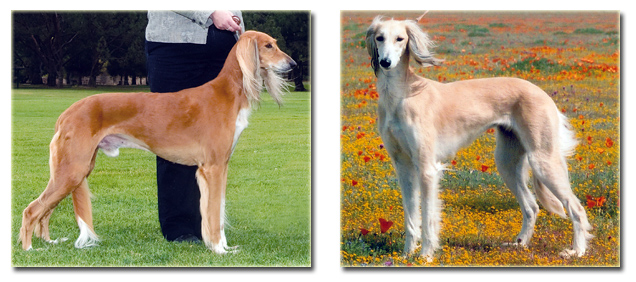 My MSBIS Ch. Sadik Solar Flare CD, RN, JC (left) sired the fifth Sadik litter out of my Ch. Lorrequer Illusion at Sadik JC (right). This was a large and vibrant litter of nine puppies. So far four of the offspring have obtained their bench titles.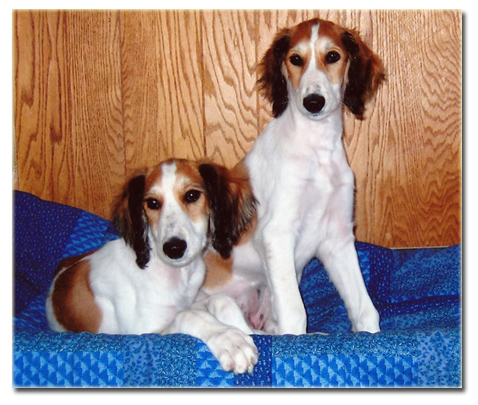 Seca and Briza are referred to as "The Spot Twins" and were the cutest pair of pups. So much so, that I couldn't decide which to keep, so I kept them both! Seca is MSBIS Ch. Sadik Seca Wind JC and Briza is Ch. Sadik Briza Wind JC. Click on their names to see and learn more about each of them.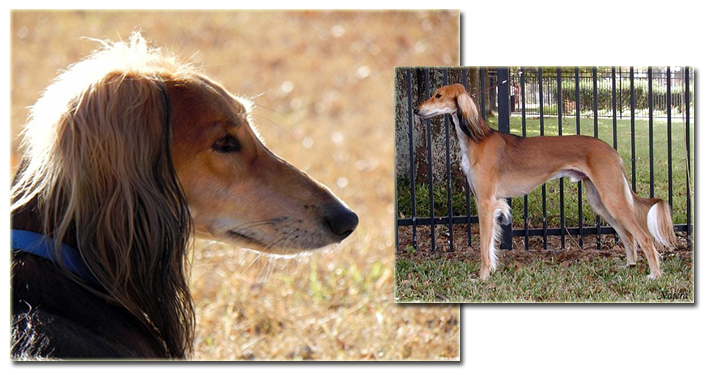 Danny is Sadik Halibra Cirocco Wind and was owned and loved by Linda Hopwood of Dallas, Texas. Danny was shown only a few times, but his career was cut short by a broken front leg. Linda says he was, by far, the sweetest dog she has ever owned in her 32 years of sharing her life with salukis. He also acted as the "referee" of the household and ensured that order is always in the court. While it would have been nice for Danny to become a champion, Linda says he lived a very cherished life in the years she was blessed with him.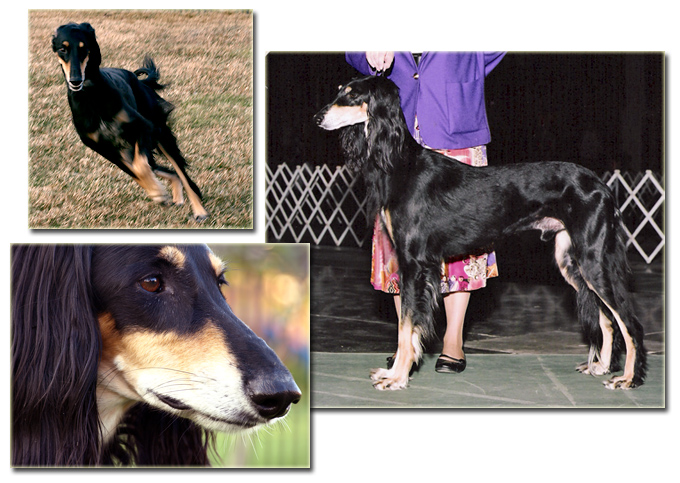 Ch. Sadik Taku Wind is owned and loved by Maria Cotter of McComb, Michigan. Taku finished his championship with ease, shown by his good friend Karen Butler. Taku is the ideal friend and companion along with being a fun dog to show as icing on the cake!
(Photos by Maria Cotter and K. Booth)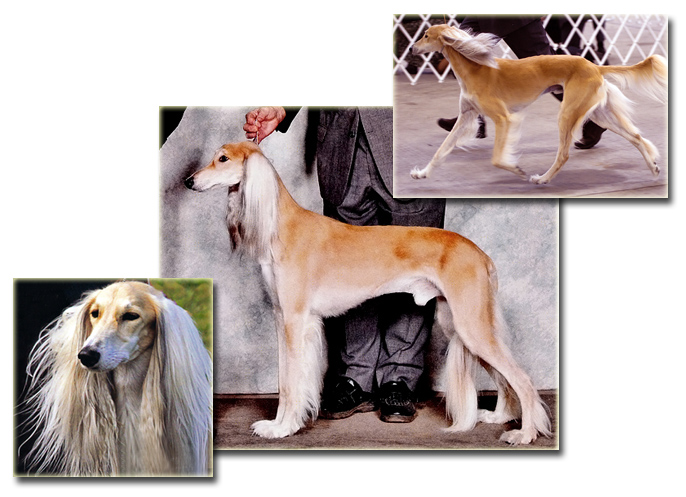 Can Ch. Sadik Sansar Wind lives in White Rock, BC, Canada with Georgie Paone and their newest family addition, Blue Nile Special Kalaya Sunshine. Sansar has enjoyed a very successful show career to date with earning several Breed, Group and Specialty wins in his home country of Canada. In the USA, he needs but one major to finish his AKC Championship and is a multiple breed and group placer from the classes.
(Photos by Judi Ben Joud, left and Martin Hershberg, center and Desert Rain Photography, upper right)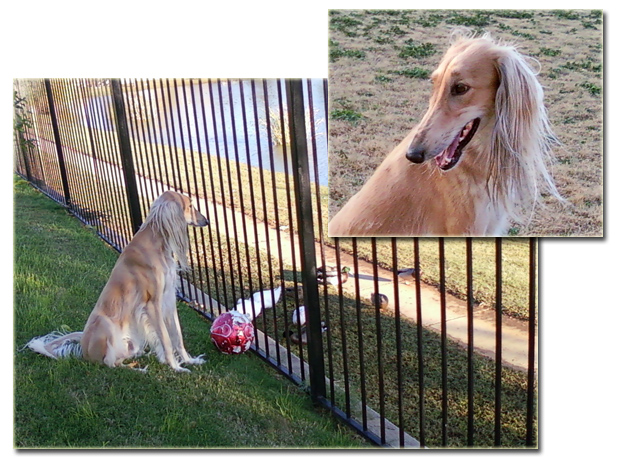 Sam is Sadik Samiel Wind. He lives in the great state of Texas with Roger and Sally Ann Davis. According to Sally, Sam loves ducks. He has a favorite stuffed duck ("Duck-Duck") which he carries around and sleeps with, and he loves to just sit and watch the ducks that live just on the other side of the fence from his yard and is quite protective of them! He is pictured above in his role as the The Great Duck Protector. Like many in the Wind litter, Sam is a hugger and will stand up on his hind legs and join his human family in a group hug whenever the occasion calls for one.
(Photos of Sam by Sally Ann Davis)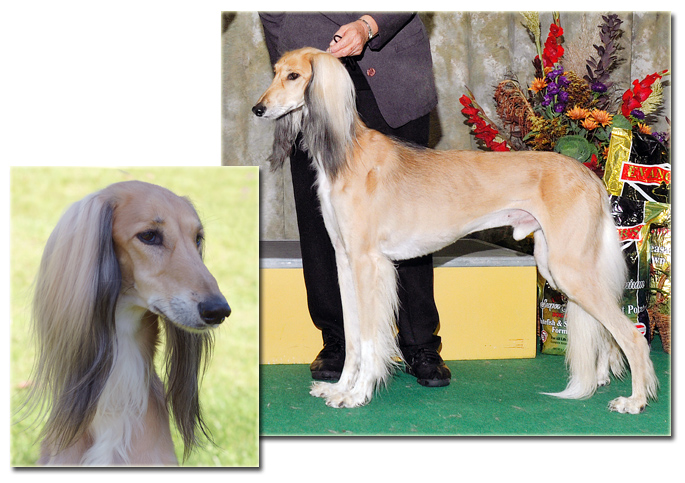 Ch. Sadik Kharif Wind JC is Habu! He is owned by and lives with Jean Beeler in San Jose, California. Habu has enjoyed many fine moments in the ring which include a Best of Opposite Sex win in the very large entry at the San Angeles Saluki Club Specialty show held in Lompoc in July of 2010 under breeder judge Gabriele Schroeter of Germany. Habu is pictured above winning one of his majors under sighthound specialist Lou Guerrero. He leads a joyful life with Jean and her other dogs, which include Sadik Tawa SC, CD.
(Photo by Roberts)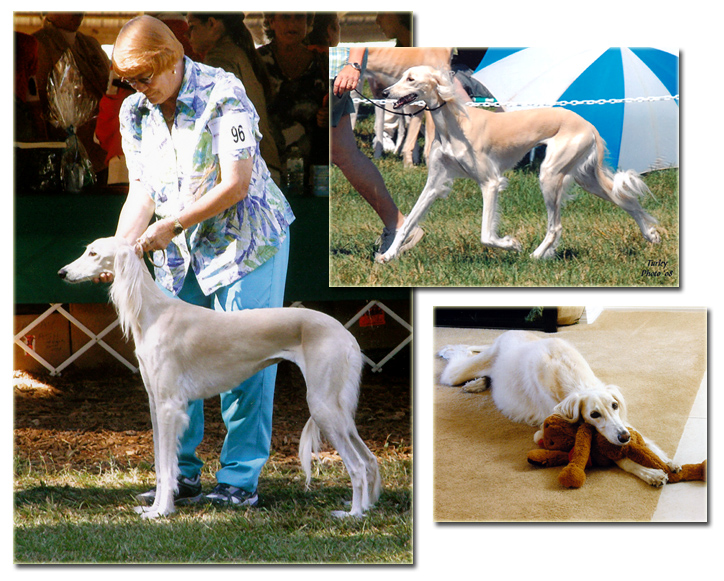 Living with Jerry and Carol Mowry in Florida is Sadik Solana Wind, fondly known to her family as Lulu. Lulu is a beloved family member and shares her life with three other Salukis at the Mowry household. Traveler is Ch. Timaru Wild Card. Roxy is Ch. Nymrod's Huntress and Blossom is a sweet rescue girl who rounds out Carol and Jerry's pack. I am so happy that Lulu leads such a treasured life with the Mowrys!