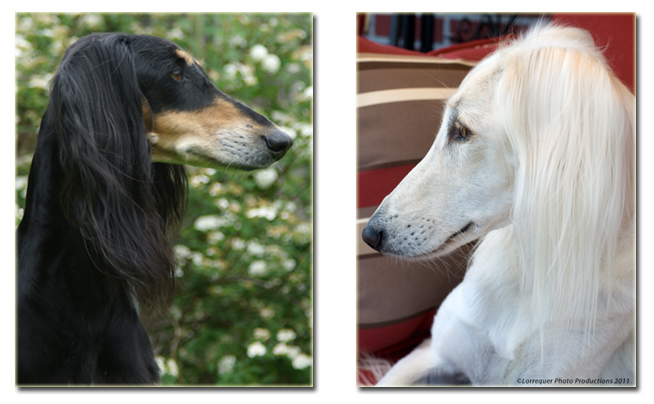 My SBIS GCh. Sadik Akhtar Piece of My Heart, JC and I took the long trip to Beaton, Ontario, Canada in June of 2015 to visit with Lin Hawkyard and her MSBIS Am Can Ch. Lorrequer Kharyder (Ryder). After a lovely courtship and the long road home, two months later JJ presented me with six pups on the 9th of August, 2015. Four girls and two boys.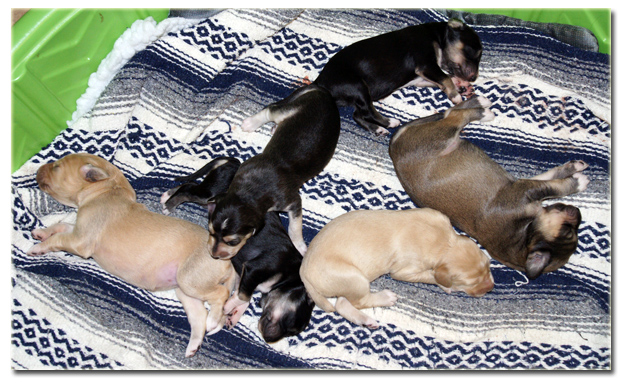 The puppies at one week of age from left to right and clockwise, starting with the cream on the left: Kabria, Tyler (grizzle), Emira (tri/top), Bella (sabled fawn), Daisy (cream) and Rafiq (tri with grizzle on top).
Kabria stayed here and is Ch. Sadik Pride and Joy. Kabria is named after the late, great, Stevie Ray Vaughan (and Double Trouble)'s 1983 hit and first single, "Pride and Joy". She certainly is mine!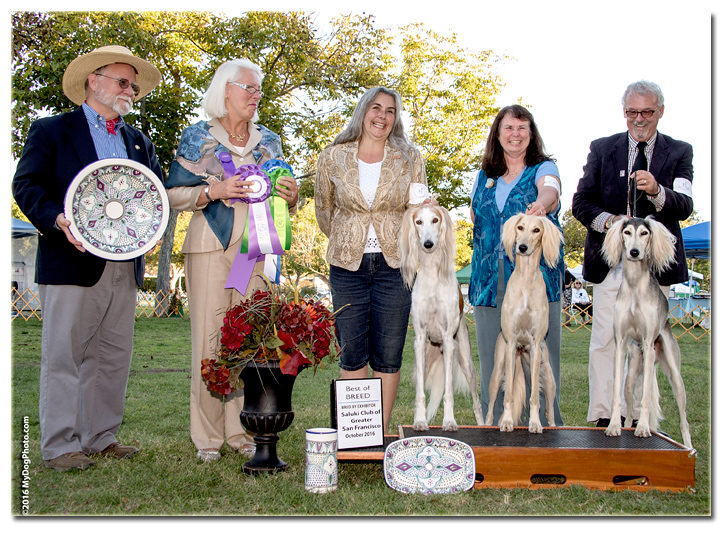 Pictured here, from left to right, at the Saluki Club of Greater San Francisco, October 2016, is MSBIS GCh. Sadik Seca Wind, JC. winning Best in Specialty show, then Winners Bitch and Best of Winners is Sadik Pride and Joy and her brother, Tyler (Sadik Total Eclipse of the Heart) winning Reserve Winners Dog. Tyler is co-owned by Judith Sears and Jim and Linda Griffin.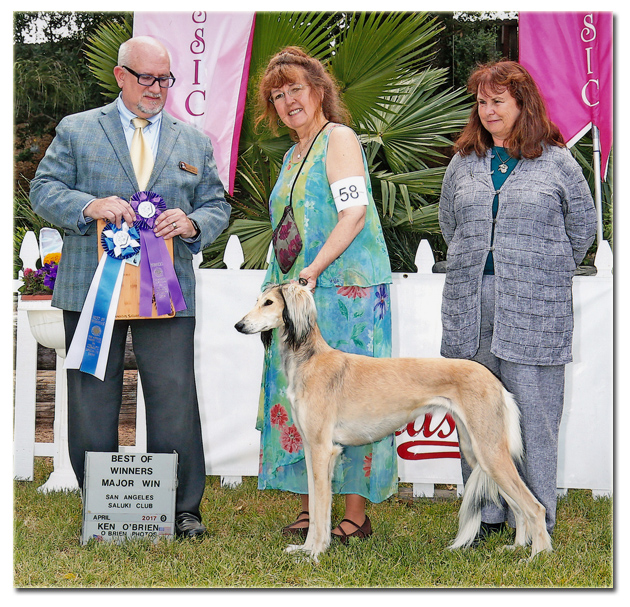 Bella is Ch. Sadik Blue Bayou at Timaru. She is owned by Lesley Brabyn and myself and easily completed her AKC Championship in California with majors at both the spring and summer San Angeles Saluki Club Specialty shows in 2017
and at the Western Hound show the day after the SASC spring specialty. She is truly a breeder's dream come true.
Thank you, Lesley, for giving Bella such a wonderful home and showing her so beautifully!
She is pictured here with her SASC win in April under Michael Canalizo.
(Photo by Ken O'Brien)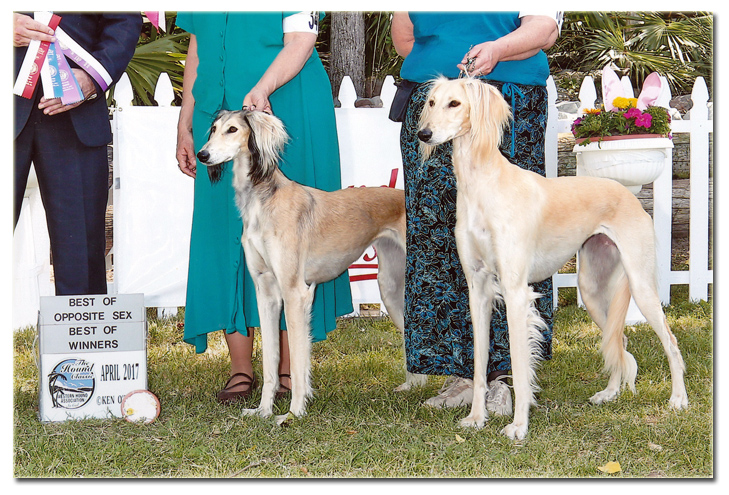 Kabria is pictured here with her sister Bella. Bella won Winners Bitch, Best of Winners and Best Opposite Sex
and Kabria was Reserve Winners Bitch under Mr. Edmund Dziuk the day after the
SASC specialty at the Western Hound Show, April 2017.
(Photo by Ken O'Brien)
Stay tuned for individual photos and information on each pup!